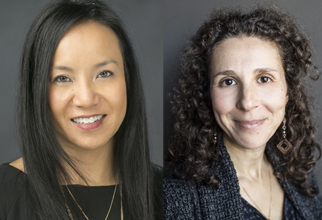 By Connor Beach
cbeach@longislandergroup.com
Grieving the death of a loved one can be a difficult process, but a Huntington resident and her Georgia-based partner feel they have created a way to make the grieving process a little easier.
Kimberly Libertini, a single mom and teacher, and Robynne Boyd, a single mom and writer from Decatur, Georgia, launched Goodgrief, a social network for those suffering from the death of a loved one, on Jan. 10 after the pair formed a relationship based on loss.
In 2015, the man that Libertini had been seeing for three years passed away suddenly, and a mutual friend connected her with Boyd, whose mother was dying from metastatic breast cancer.
Libertini said the friend told her that he thought she and Boyd "could probably help each other through whatever it is you're going through."
Libertini agreed to send Boyd a text, and for the next year they texted back and forth.
"We started with the big stuff, and from there we worked backwards to the surface stuff." Libertini said.
After a year of texting Libertini said the two women, who have still never met in person, felt that other people would benefit from a similar grieving experience to the one they had shared, and from there, Goodgrief was born.
"We tried to figure out what the best way to do this was, and that's how we came up with the app of privacy, screen names and just being able to really speak what your feeling while still having that security of being behind a screen name," Libertini said.
Through the app users create a profile and can filter their matches based on age, religion, relationship to the person who passed away or the length of time since the loss.
"Maybe they want to talk to someone who suffered from the same loss, but five years down the line and get some advice on how they managed to get through those last five years," she said.
Although the current community using the app is still small Libertini said the goal is to develop a large community of support within the app.
"There are those moments late at night when friends or other groups aren't available," Libertini said. "You need someone to reach out to that gets it, that's experiencing the same thing, and together you can kind of navigate the grief."
Goodgrief costs $4.99 per month and is available through the iOS App Store, Google Play or at Goodgriefapp.com