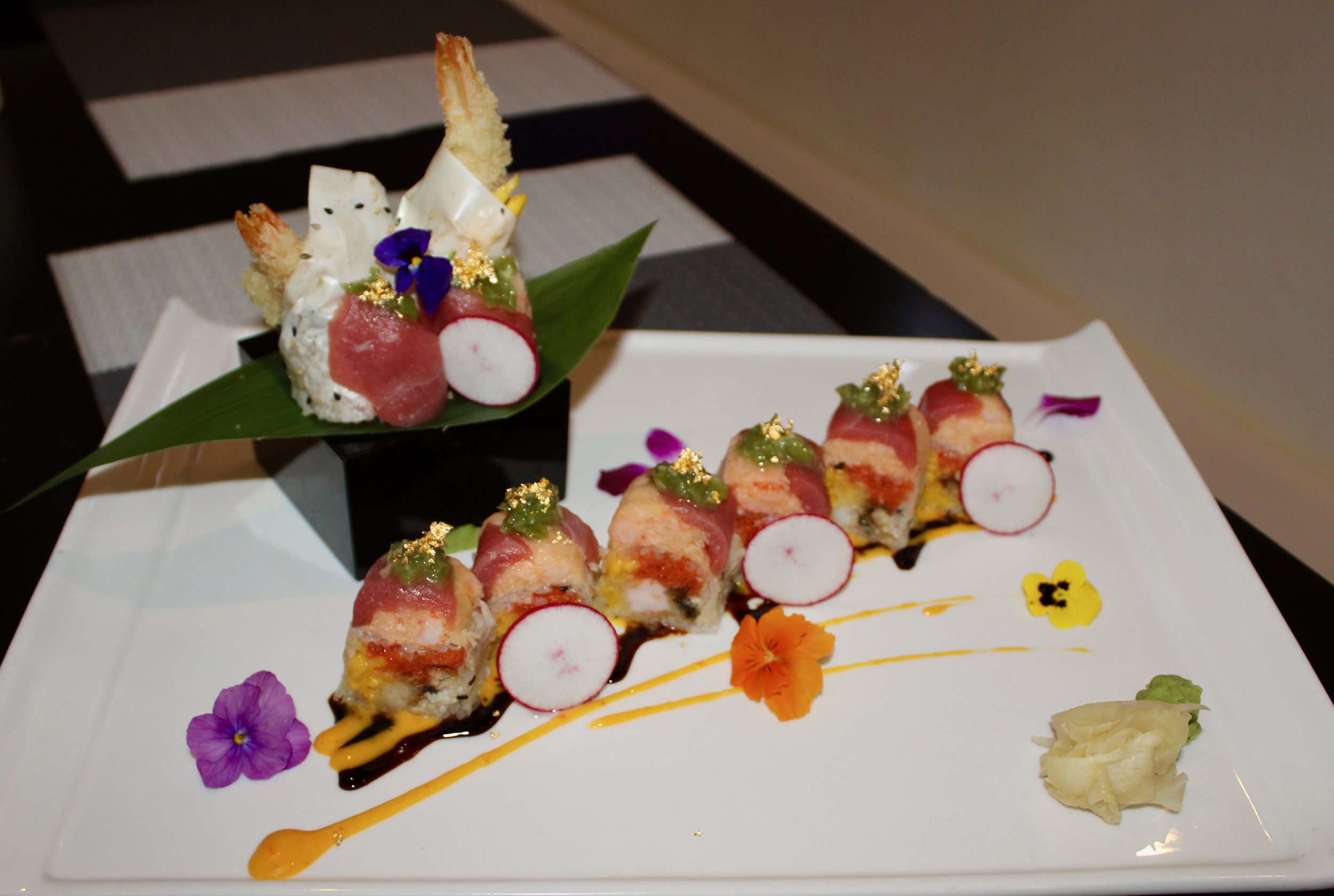 By Sophia Ricco
sricco@longislandergroup.com|
Masters of flavor, fusion, and entertainment, 110 Japan in Huntington Station serves up a deluxe dining experience no matter where you sit.
The Japanese eatery, opened five years ago by Sonny Lin, delivers an expansive menu of entrees, hibachi, sushi, and happy hour specials.
Originally from China, Lin worked in the restaurant industry for over 15 years before embarking on 110 Japan. He said Japanese cuisine gives chefs more room to explore with authentic flavors, as opposed to Chinese that has established standards in America.
"I wanted to open a modern Japanese restaurant with an Asian fusion twist," Lin said. "There's something for everybody here. It's a big restaurant, laid out in three ways so everyone has a place. The menu is relatively large, so we have a variety of choices."
110 Japan is an upscale eatery with refined decor and eye-catching elements. The dining room is reserved for intimate dinners – a place for sharing conversation and bites.
A meeting place for many, the bar serves up happy hour specials for friends and co-workers alike.
And anyone, any age, can enjoy the show at the hibachi tables where meal preparation becomes a fun celebration.
"This restaurant is very unique," executive chef Chee Meng So said. "If you have kids, you can enjoy the hibachi. If you're with family or your partner, you can sit in the dining area. If you're with friends, there's a bar and happy hour. It's a fun atmosphere."
So got his start at the Four Seasons restaurant and has been cooking for more than 20 years. He experienced a wide variety of cultural cuisines that he infuses into dishes today. Although, 110 Japan's menu is mostly Japanese, So incorporates many techniques learned in his native Malaysia.
"I enjoy doing fusion, so there's a bit of South-East Asian cuisine," So said. "But we always test and try it before launching."
So draws inspiration for his dishes from cookbooks and his own travels, taking elements that he can blend together. A refreshing appetizer, the new style yellowtail jalapeno ($12) shines with a light sauce that incorporates hints of soy sauce and wasabi. Melon balls and tomatoes give it a fresh touch that pairs well with the soft yellowtail.
Sometimes it takes time to achieve excellence. 110 Japan braises pork for six hours before pan-searing the meat for the braised pork special. Braising the pork and draining off the grease before crisping the outside keeps the dish lean and the inside tender, So said. The chef accomplishes this goal, delivering a savory and slightly sweet meat that melts in the mouth. Complemented by corn and cashews, the dish stays fresh and nutty.
Fresh, in-season ingredients are important to So's kitchen "Right now, sweet corn and melon is very fresh, so we will use it in specials," So said. "We don't change the menu often but I create many specials based on the season."
The chef takes time to think of the flavors he will unite on a plate, paying particular attention to variation. Pan-seared wild striped bass ($22) demonstrates his proficiency. A jalapeno miso sauce brings the heat. It's balanced by the sweetness of coconut sticky rice and hearty asparagus. The fish's crust is light and well seasoned.
"It's all about balancing it out," So said. "If it's too spicy, then you'll get bored and can't finish the meal. For the pork, it's kind of greasy so I balance it with sweet corn."
This summer, 110 Japan will incorporate more fruits and vegetables, even pairing sashimi with slices of fruit. A new sushi special, the fancy toro roll is decadence on a dish. Found in the belly of the tuna, toro is extremely tender and fatty. It is mixed with tuna and topped by gold flakes for extra elegance.
"Food presentation is important," So explained. "I want customers to have a great first impression of the food before they eat it."
Lin has worked to build a connection with the community by keeping things real and authentic. He hopes to carry this on at his new restaurant, Takumi, opening in Bay Shore this month.
"I always tell my employees to greet customers with a warm smile and remember what the regulars like, treat them as a friend," Lin said. "Every year we have an anniversary party, that we invite regulars to as our treat, they can sit with our staff and enjoy as friends."
110 Japan
179 Walt Whitman Road (Route 110)
Huntington Station
631-673-5888
110japan.com
Cuisine: Japanese/Fusion
Atmosphere: Modern and lively
Price range:
Appetizers: $5-12, Sushi: $13-45
Entrées: $8-26
Hours: Monday-Thursday, 11:30 a.m. - 10 p.m.; Friday-Saturday, 11:30 a.m. - 11 p.m.; Sunday, 1-10 p.m.