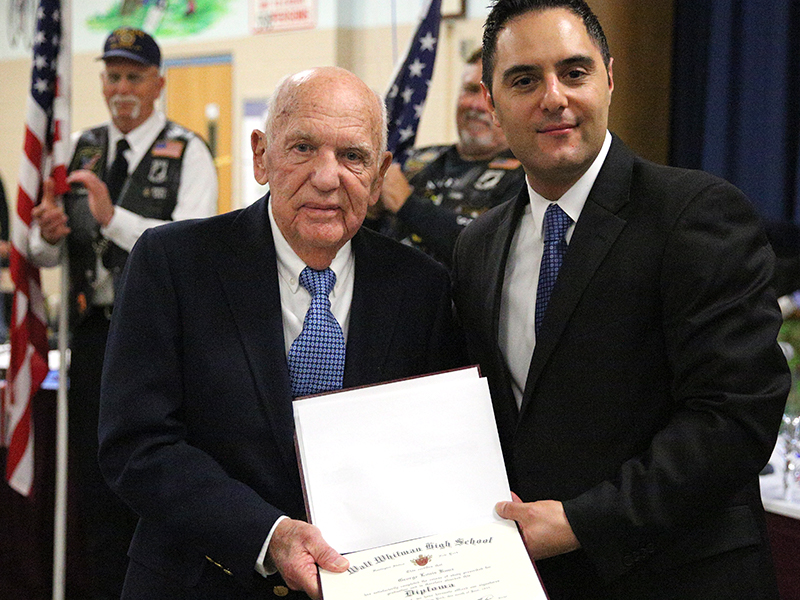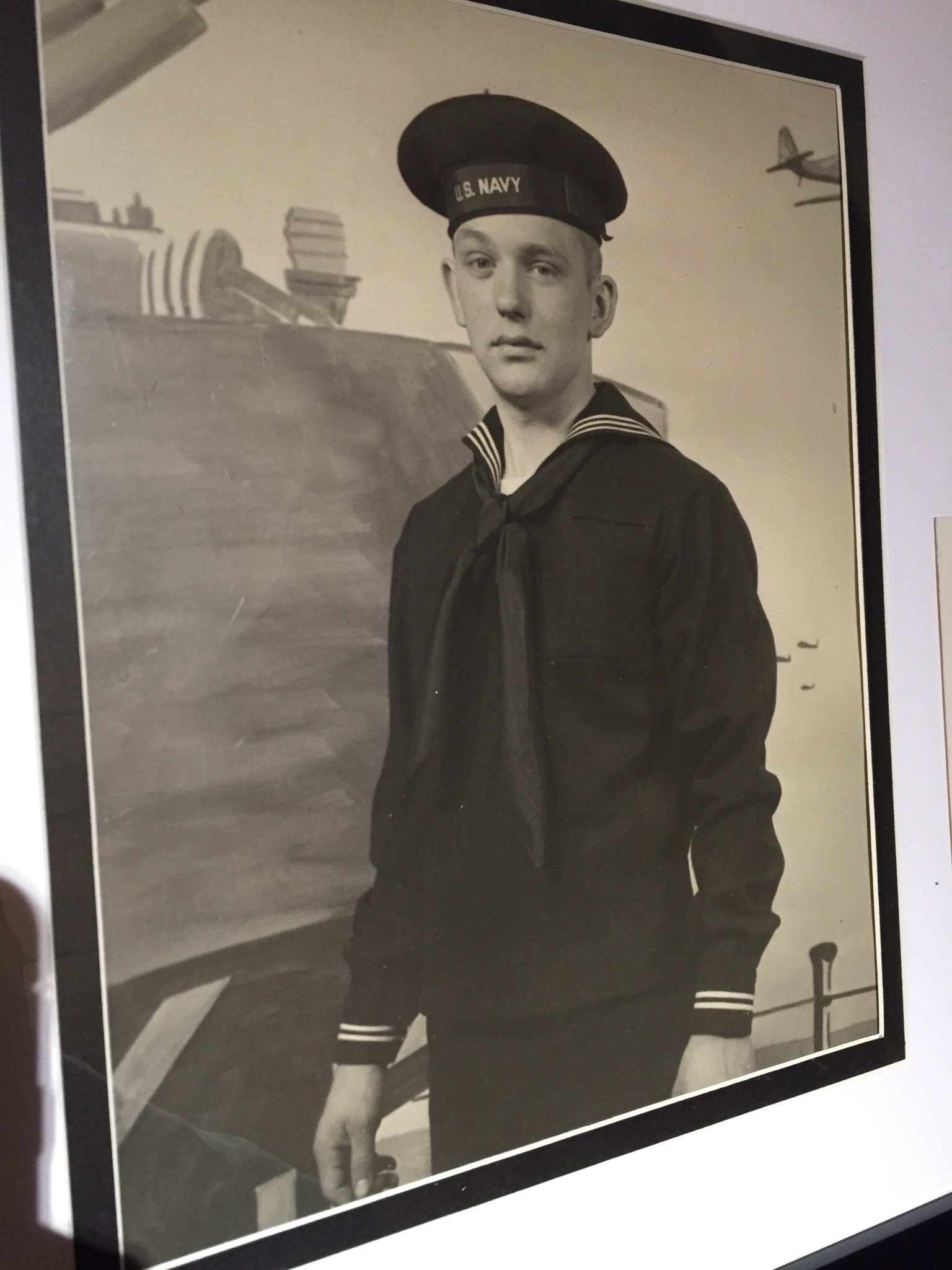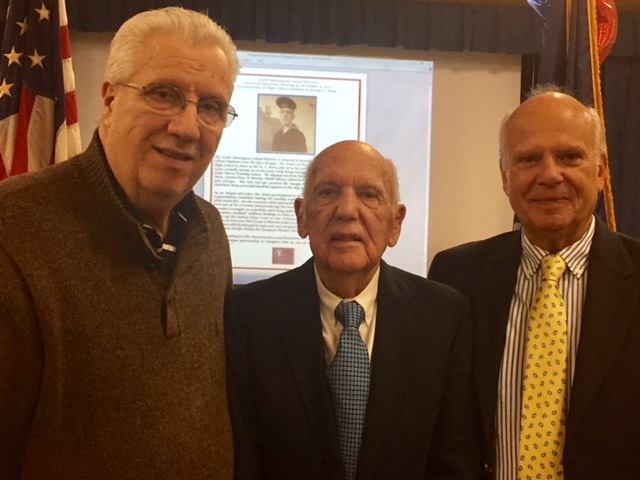 By Janee Law
jlaw@longislandergroup.com
George Kunz was 17 years old when he left South Huntington High School in 12th grade to enlist in the U.S. Navy and serve during World War II.
Now 91 years old, Kunz returned to the South Huntington School District on Nov. 8. He did so in order to receive the diploma he started working toward nearly 75 years ago.
Kunz, who now lives in New Suffolk, was determined to earn his high school diploma, and recently learned about Operation Recognition, a state program for veterans of WWII as well as the Korean and Vietnam wars who left high school early in order to serve.
"It was one of those things you have on your bucket list," Kunz said, adding that his son, Steve Kunz, and daughter, Patricia Pettit, both of whom are teachers, encouraged him to take the necessary steps.
Nick Ciappetta, president of the South Huntington school board, called it a "great honor" to present Kunz his diploma. "By volunteering for the Navy at the age of 17, Mr. Kunz was willing to sacrifice his future to defend freedom and democracy. His service and patriotism make him a true American hero and we all owe him a debt of gratitude."
Pettit, Kunz's daughter, who currently lives in Northern Virginia, said, "We are so very proud of all of the people who worked hard to gather such a beautiful presentation to honor a man who has worked his whole life and has been so selfless, always doing things for other people."
Growing up in Huntington, Kunz and his two brothers "were always motor heads" and enjoyed working on cars and motorcycles. After Kunz left high school, he worked at a gas station, a dealership and then Grumman Aircraft in Syosset. He enlisted in the Navy in 1944.
Kunz said he made the move because he wanted to do his part for his country while also engaging in mechanical work on vessels. He was honorably discharged in 1946 and was recognized with the American Theater Medal, the Asiatic Pacific Medal, the European Theater Medal (1-Star), and the Victory Medal.
When he returned to the U.S., Kunz went back to work for Grumman and then went to work for the Long Island Lighting Company as an auto mechanic, where he worked for 40 years until he retired in 1992. He also moved out to New Suffolk from Huntington in 1992.
Kunz married his late wife, Helen, in 1947. The couple had two children, Patricia Pettit and Steve Kunz, and have three grandchildren. Kunz remarried in 2000 to Peggy.
Pettit said that her father has always been a hard worker, working two jobs so that his children can have a college education.
"He's spent his whole life doing kind things for other people," she said. "He's always been calm, cool and collected, and is a patient man, a kind man and a caring man, who would give you the shirt off his back."
With that, Pettit said, she was always impressed by her father's sense of gratitude, adding that he appreciates everything that life has given him.
Kunz said he was surprised by how the district presented his diploma to him.
"I never expected the big production that went on because they had everyone from the town and the senate and they all gave me awards," he said. "It was overwhelming what the school went through to get all these people together and I was amazed. I'm grateful to all those people that made it possible."