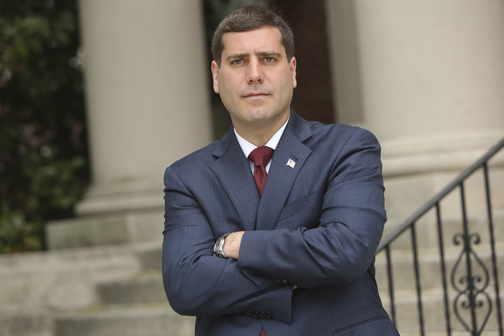 By Long Islander News Staff
info@longislandergroup.com
On Election Night 2017, there were few surprises in the Suffolk County races that affect the Huntington area.
Tim Sini, Democratic candidate for Suffolk district attorney, declared victory fairly early into the night Tuesday as results showed he earned 182,005 votes to Republican challenger Raymond Perini's 106,773.
Sini, in his victory speech, said, "We are going to return the office to the honorable institution it once was."
He continued, my transition team "will conduct a bottom to top assessment of the office. We will ensure we do whatever it takes so that the Suffolk DA office will work for the people ... not politics. For far too long, this office has been used as a tool for those who are politically connected. That ends today."
Four Supreme Court justices were elected to the 10th Judicial District: Justice Thomas Feinman, a Republican, with 205,822 votes; Justice Arthur Diamond, a Democrat, with 203,121 votes; Suffolk District Court Judge Linda Kevins, a Conservative, with 159,659 votes; and Justice William Rebolini, of Huntington, a Democrat, with 153,762 votes.
District Court Judge David Morris ran unopposed for Suffolk County Court Judge and was elected with 267,456 votes. Incumbent Family Court Judge Theresa Whelan, a Democrat, was re-elected with 171,918 votes, defeating Republican challenger Steven Weissbard.
In the four Suffolk Legislature races, two incumbents were re-elected while two new faces were elected to the other posts.
In the 13th Legislative District, which includes portions of Commack, East Northport and Fort Salonga, incumbent Legislator Rob Trotta, a Republican, earned 13,808 votes to defeat Democratic challenger Colleen Maher, who earned 6,601.
Trotta said Wednesday, "I thank the people of the district — they know I work hard. I'm trying to make headway on spending, but it's difficult in the minority. I'm hoping, in the future, we can pick up some more seats."
Incumbent Legislator William "Doc" Spencer fought off challenger Dom Spada in the 18th Legislative District, which spans most of the northern portion of Huntington township.
Spencer, who earned 11,959 votes, said Wednesday, that his initial reaction following the "somewhat contentious" campaign season was relief.
He continued, "It was a validation. I've done the work and I've gotten the results. I felt cautiously optimistic, but I definitely felt some uncertainty until all of the results were in."
As for the newcomers, Thomas Donnelly, a current Town of Babylon Councilman, was elected to Suffolk's 17th Legislative District, which includes portions of Dix Hills, Huntington, Huntington Station, Melville and West Hills. The current legislator in the district is Lou D'Amaro, who is termed out.
Donnelly said Wednesday that he is "grateful for the public's trust in me."
"Most folks know my work ethic from being a Babylon Town Councilman and I simply just try and do the right thing," he added, saying that he will step down from his councilman position at the end of this year.
Donnelly said his first priorities as legislator will include working with other partners in town and state government to ensure that the property tax cap is maintained, and to address public safety and quality of life issues in the county.
In the 16th Legislative District, which includes portions of Commack, Dix Hills, East Northport, Elwood, Melville and South Huntington, current Huntington Councilwoman Susan Berland was elected with 7,320 votes. Berland, whose campaign did not return a call for comment, defeated Hector Gavilla, who earned 6,001 votes.